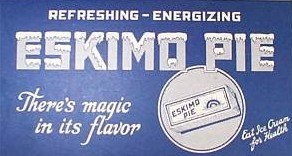 While it may not share the same importance in a culture as majority of the historical artifacts at the museum, I thought it was kind of cool to find something so mainstream come from Iowa. I can't quite say why it caught my attention, maybe it was because it was around lunch time and I was hungry or because it was part of the "Iowa IQ" exhibit and I found myself clueless. Would you know the answer?
Onawa, Iowa native Christian Nelson created a new ice cream treat in 1921. It became a national sensation selling over one million servings daily. What is it called?
Drumroll.......Eskimo Pie. Christian Nelson ran a candy store in Onawa. A boy could not decide whether to buy a candy bar or an ice cream sandwich, and Nelson invented a way to combine both by making chocolate-covered ice cream bars without sticks.
Ice cream is a big part of the American food culture. Whether it is paired up with cake at a birthday party or in a cone on a hot summer day, ice cream is a favorite among the American people. I had no idea Eskimo Pies originated in Iowa. While this may not be nationally known, I feel that things like these give people of Iowa pride in what we produce. Granted, it's only an ice cream treat, it's nice to see that Iowa is on a national stage. It's always cool to see things from Iowa get out into society, movies, sports, etc.
I think it is important to the culture because it is a staple in frozen treats. 80+ years of success shows its popularity, and to be from Iowa is another plus. I doubt people in Iowa know where the Eskimo Pie came from, and at the same time, I would bet there are plenty of other things out there that have a direct connection with Iowa. People take pride in their roots and what comes out of their state, and that's what, to an extent, the Eskimo Pie as well as many other things do for Iowans...make them proud to be an Iowan. While an ice cream bar isn't as significant as war hero's or olympic athletes, it is still something we can take credit for.
-Doug L.